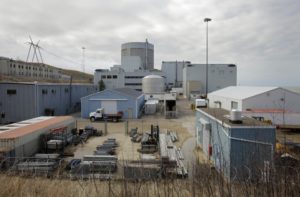 After a couple weeks of rumors, we now have confirmation.
Palisades Power Purchase Agreement to End Early; Nuclear Plant to Close in 2018
COVERT, Mich. – Entergy Corporation (NYSE: ETR) and Consumers Energy, Michigan's largest utility and the principal subsidiary of CMS Energy (NYSE: CMS), have agreed to an early termination of their power purchase agreement (PPA) for the Palisades Power Plant in Covert Township in 2018, lowering the costs to Consumers' customers by as much as $172 million over four years. The agreement is subject to regulatory approvals. Separately, and assuming regulatory approvals are obtained for the PPA termination, Entergy intends to shut down the Palisades nuclear power plant permanently on Oct. 1, 2018.